Privacy Policy
Here you will find information about how we use your personal data that we receive via forms on social media (Facebook and Instagram) and instant messaging apps (Facebook Messenger, Instagram Direct and WhatsApp).
1. DATA CONTROLLER
Habacus S.r.l., with registered office in via Filippo Sassetti, 32, Copernico Isola Fintech, 20124, Milan, tax code and VAT number 04906910262 ("HABACUS")
2. TYPE, SOURCE AND MANNER OF DATA COLLECTION
Habacus processes your personal data. We receive it through social media, when you click on our adverts, or it is personal data that you yourself have provided to us through forms or in response to a message from us (the "Data").
Which Data? This: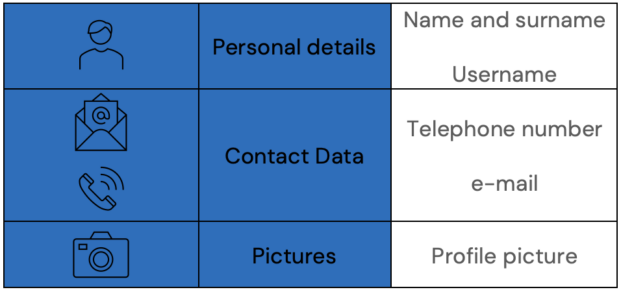 You can choose whether or not to give us your Data, but we need it to respond to your message and give you the information you have asked us for.
3. PURPOSE AND LEGAL BASIS FOR PROCESSING
We collect your Data to enable:
you to contact us to receive more information about our services and how we finance your studies and training; and
Habacus to respond to your message and/or provide you with any information you request.
We will not use your Data for any other purpose and we will not sell it to any other party. Processing is based on Habacus' legitimate interest in providing you with the requested information about our study support services, which you have expressly requested from us; of course, if you write to Habacus, you can expect a reply.
4. RECIPIENTS OF DATA
The Data will be disclosed to and may be known by employees and contractors of Habacus. Furthermore, your Data will also be processed by the company that helps us to manage our social channels. Take it easy: it is based in Italy, has received specific instructions and knows how to use them.
5. HOW ARE DATA PROCESSED AND PROTECTED?
Data will be processed using electronic and IT tools. We do not use bots, those who write to you are real people! We only use protected and secure systems; Habacus has done everything it can to protect them properly.
6. RETENTION PERIOD
Data will not be kept for longer than necessary and, in any case, for no longer than 12 months after the last contact.
The Data will be retained for longer if this is necessary to comply with legal obligations or to ensure the judicial protection of Habacus' rights, subject in each case to the maximum periods permitted by law.
7. WHAT ARE YOUR RIGHTS?
You have the right, at any time, to
to request and obtain access to your Data and information on the processing carried out
to request and obtain the rectification and/or updating of the Data in our possession (with the exception of your registered social media account data)
to request and obtain the erasure and/or restriction of the processing;
to object to the processing;
to seek judicial remedy or lodge a complaint with the Data Protection Authority.
You may exercise these rights whenever you wish by writing
by email, to the address: info@habacus.com;
by registered mail with return receipt, to the address: Habacus s.r.l., Via Filippo Sassetti, 32, Copernico Isola Fintech, 20124, Milan.
For further information or clarification of the rights mentioned, you can always write to Habacus or to the Data Protection Officer (details below).
8. DATA PROTECTION OFFICER
HABACUS has appointed a Data Protection Officer (DPO). This is LCA SERVIZI S.R.L., and can be reached:
by registered mail with return receipt, to the address: Via della Moscova, 18, 20121, Milan,
by email, to the address: dpo@lcalex.it; or
by PEC, to the address: lcaservizi@pec.lcaservizi.it .